Glen Burnie Divorce Lawyers
We make this difficult time as simple as possible
Law offices in Glen Burnie. Serving clients' family law needs across the state of Maryland.
Even those who want a divorce typically find that it is a sad and stressful experience.
At Jimeno & Gray, our dedicated Maryland divorce lawyers have the experience and knowledge to help you through this difficult phase of your life. Clients choose us to handle their complicated Maryland family law matters because:
We understand the common reasons couples file for divorce, Maryland's requirements to establish grounds for divorce and the financial and personal costs that come with the end of a marriage.
As your divorce attorneys, our objective is to do what's necessary to protect you and your assets, and to help you make informed decisions about what's best for you and your children.
Jimeno & Gray is a small divorce law firm that looks after each client individually. We care, and you'll notice that when you come into one of our offices. We strongly believe you'll appreciate the time and attention our team will dedicate to you and your case.
If you are considering divorce in Maryland, please contact us by phone, online, or by visiting one of our conveniently located offices in Glen Burnie. Or, simply click here to schedule an intake call. We empathize with what you are going through and will stand by your side to guide you toward your goals for moving forward with your life.
Our team of divorce lawyers helps you take control of your family's future
We know how scary this time can be for you and your family. This is why we take the time to truly listen and answer all of your questions so you can…
Be Informed
Information is power in your divorce. We make sure you have what you need to make the best possible decisions.
Take Control
Empowered with the right information and our experienced divorce team, you can take control of your situation.
Secure Your Future
We help make sure you and your family get what you need. Secure your future and move on from a trying season of life.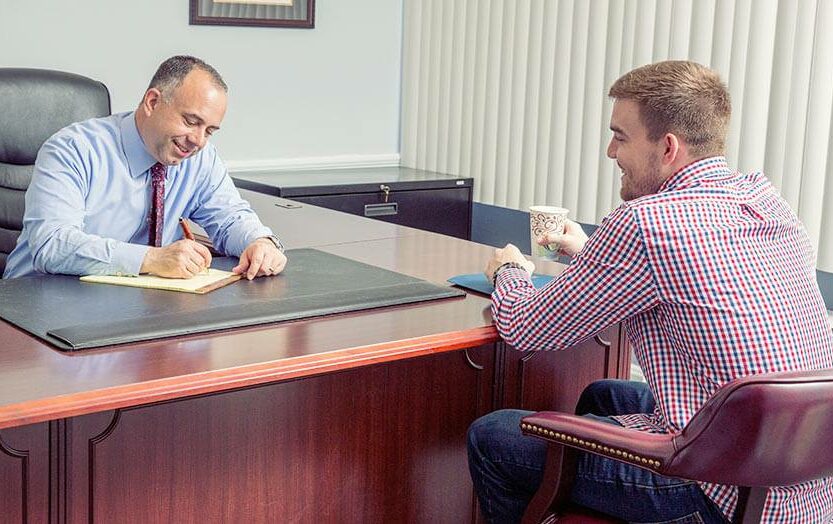 We understand how difficult this can be for you and your family
This is why we take the time to listen and answer all of your questions. We also guide you to the best possible outcome for your case.
Taking control of your situation shouldn't be overwhelming
Our Glen Burnie divorce lawyers help put you at ease as we guide and educate you to the outcome you need. Here's how to get started:
1. Schedule a Call
Speak with a member of our experienced family law team. We'll take the time to listen and understand your situation.
2. Develop a Plan
We create a customized legal strategy that meets your specific needs and helps you. get the outcome you deserve.
3. Get Results
We get results so you take control of your future by achieving the best possible results for your legal matter.
Start with the right divorce attorney in Glen Burnie, Maryland
When you meet with our experienced Maryland divorce attorneys, we will walk you through what to expect and what steps need to be taken to protect yourself.
The State of Maryland recognizes two types of divorce:
Absolute divorce, or the termination of a marriage
Limited divorce, otherwise known as legal separation, which does not end the marriage
To obtain an absolute divorce, you must establish grounds, or reasons, for ending the marriage. Maryland recognizes the following as grounds for an absolute divorce:
Mutual consent (or an uncontested divorce). If you and your spouse submit to the court a written settlement

 

agreement

 

that resolves all issues

of your marital property, alimony, monetary award, retirement accounts, children, if any, and child support, a judge will quickly issue a divorce decree with no separation period required.

One-year separation. You and your spouse must have lived separately and apart from one another for a continuous period of one year, and not had sexual relations during that time.
Adultery. One spouse has had voluntary sexual intercourse with a person who is not his or her spouse 

and it was not condoned or forgiven.

Desertion. An unjustified abandonment (leaving the home) with intention of terminating the marriage may be cited under certain circumstances.
Cruel treatment. Your spouse has treated you or his or her minor child with violence or cruelty.
Insanity. A licensed medical doctor has determined that your spouse is legally insane, and your spouse has been in a mental institution or hospital for at least three years prior to filing for a divorce.
Incarceration. Your spouse has been convicted of a crime, and has been sentenced to three or more years in prison. When filing for divorce, your spouse must have served at least 12 months of the sentence.
A limited divorce is not required before obtaining an absolute divorce, but some people (or couples) seek one if their divorce is contested (meaning they and their spouse disagree) and they are unable to establish grounds for an absolute divorce. Sometimes a person already living apart from his or her spouse will seek a legal separation to help settle issues of contention, particularly issues of custody and monetary support.
What to Expect in a Limited Divorce
In a decree of limited divorce, the judge may establish any of the following:
Child custody
Child support
Spousal support
Use and possession of property

 

(such as the family home)
Once a limited divorce is granted, absent other grounds, the couple can maintain the separation for a year and then file for an absolute divorce. During this time, the couple may work to come to agreement on the issues listed above.
What to Expect in an Absolute Divorce
In an absolute (final) divorce decree, the judge will settle issues like those above in a binding judicial order. These issues are typically at the heart of any divorce that ends a marriage of several years:
Payment of alimony

 

(spousal support):

 

Alimony (money) paid by one spouse to the other may be temporary, rehabilitative (awarded for a specific period), or indefinite, which is rare.
Custody of children: Custody may be awarded to only one parent ("sole custody") or both parents (in "joint" custody), a shared responsibility for raising and caring for the children. "Split" custody occurs when two or more children are involved, and each parent takes sole custody of one or more of them. Custody of a child may be legal (one parent has the right to make major decisions regarding a minor child) or physical (making a home for the child and making day-to-day decisions while the child lives with the parent).
Payment of

 

child support: One spouse may be required to pay child support to the other. Regardless, both parents remain legally required to

 

support

 

their minor-age children (i.e., 18 years old or younger and unemancipated).
Division of property: If the individuals seeking a divorce cannot agree how property belonging to both of them should be divided, the judge may order the property sold, with proceeds divided between the spouses. This may include houses, motor vehicles, the contents of bank accounts, and other assets.
Use of last name: A spouse may ask the court to change his or her name back to the name used before the marriage. These requests are usually granted.
Obviously, it is better for all concerned, especially any children, if a divorcing couple can settle their issues amicably. We recognize, of course, that this is often not the case. This is why it is important to retain the services of an experienced Maryland divorce attorney.
A divorce agreement can be financially ruinous if your interests are not protected as it is drawn. You could be forced to divest yourself of assets and/or sell off personal property that you treasure. You could lose your home or even access to your children.
To negotiate a fair divorce agreement, you need an experienced Maryland family law attorney who will first listen to and understand your needs. He or she must be able to negotiate the terms of your divorce with a balance of toughness to protect your interests, and an openness that allows you and your spouse to cooperate and resolve the outstanding issues between you.
Our Maryland family law firm provides family law services in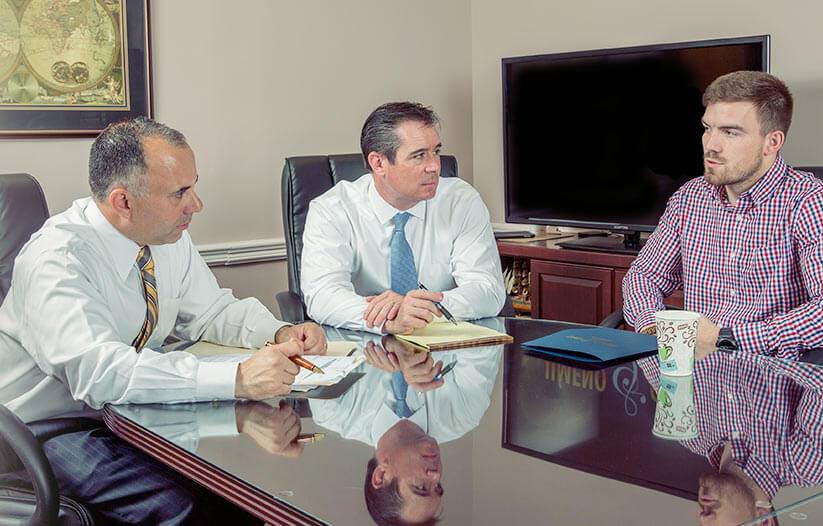 Divorce
Divorce proceedings in Maryland can be complicated. Every negotiation and decision impacts your future. You need clear-headed family law attorneys on your side experienced in handling divorce cases.
Our Maryland family law attorneys will make sure you understand your rights, the decisions available to you, and how each decision might impact your future. You can rest assured our divorce attorneys will protect your rights and interests at every turn.
Separation Agreements
Before getting a divorce in Maryland, an option available to you is to prepare a separation agreement. This is not something you have to do by Maryland law, but it might be in your best interest as it will save you time and money versus a contested divorce case.
A separation agreement sets the terms of support, child custody, and rights to marital property, like your family home.
Here's the thing, a Maryland separation agreement is legally binding and non-modifiable. So, never enter into this contract without consulting our experienced divorce lawyers first.
Child Support
Making sure your child is cared for after a divorce is of the utmost importance. Your children are entitled to financial support from both parents.
We make sure your spouse's financial obligations to your children, and his or her ability to meet them, are not overlooked or obscured. We will also fight any effort to overstate your obligations and financial capabilities.
Child Custody
This is often the most difficult part of any family law case. Your children mean everything to you and maybe you're even considering separating from your partner because it's in your child's best interest. It's important that this is done right.
Our experienced Maryland child custody attorneys understand the nuances of joint custody, sole custody, physical custody, and legal custody under Maryland law. Our law firm will do everything in our power to ensure child custody is resolved in a manner that meets the needs of you and your kids.
Adoption
Our knowledgeable Maryland adoption attorneys work with stepparents who want to adopt their stepchildren. In addition, we help relatives, as well as others, adopting grandchildren, nieces, nephews, siblings, or other children in need of a stable home.
Our law firm helps with the paperwork needed to show you meet Maryland's requirements for adoption. Including that you will be able to meet your growing family's financial needs.
Mediation
Mediation is a conversation between you and the other party that is guided by a neutral, third-party professional called a mediator.
Our family law lawyers are specially trained in mediation, including custody and marital property mediation. Our mediators can help save you thousands in fees versus a contested case. We will not represent either party but help you reach a resolution, so you can control your family's future as opposed to a judge deciding your future.
Download one of our FREE Family Law Resources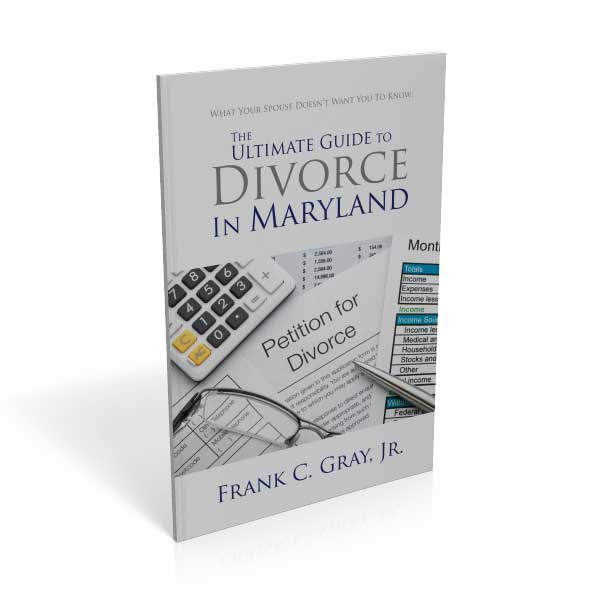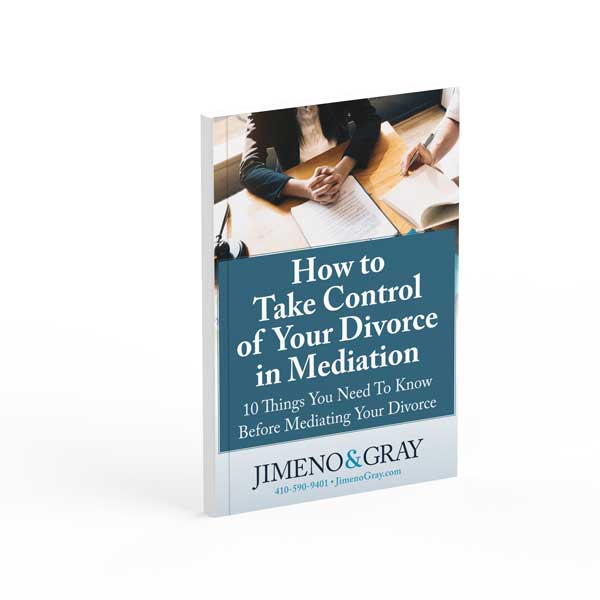 Contact Our Maryland Divorce Lawyers Today
Marriage is legal contract, and divorce is a legal process that concludes with a binding legal order, as well. The emotions, legal questions, and concerns inherent in a divorce can lead to an agreement that damages your future financially and personally. Don't file for separation or divorce in Maryland without qualified legal counsel to guide you.
Contact Jimeno & Gray, P.A., for dedicated legal assistance from an experienced Maryland divorce lawyer who will protect your rights and interests as your marriage ends. Our divorce lawyers can meet with you in person or via Zoom at your convenience. Contact us today.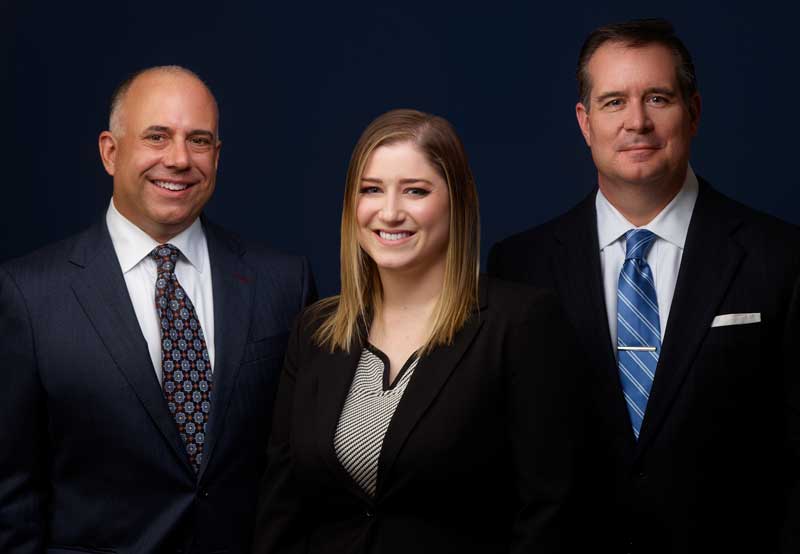 When you hire Jimeno & Gray, you can rest assured
We're always on our "A" Game
We're always accessible to you
We'll keep you in the loop on your case
We ensure every member of our team has the knowledge and experience you need