There are two types of divorces in Maryland, a Limited Divorce and an Absolute Divorce. If you're about to go through a divorce in the State of Maryland you'll want to know more about the long process you're about to go through. Learn more by reading on, or by getting in touch with us. Our divorce attorneys are ready to talk.
A limited divorce is basically a legal separation orchestrated by a Judge, while an absolute divorce is the final act that terminates the marriage, resolves all marital property claims and permits remarriage.
Should I File a Limited Divorce?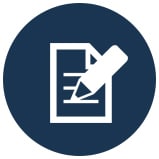 There is no automatic need to file a limited divorce unless a person needs something from the court such as alimony, custody, visitation, child support, use and possession of the family home, and/or attorney's fees.
A person can be separated from their spouse without filing for a limited divorce, if they live separate and apart, without cohabitation.
Through the limited divorce process, a judge has no authority to handle the division of any marital property. The court only has authority to award alimony, custody, visitation, child support, use and possession of the family home, and/or attorney's fees.
When is an Absolute Divorce Granted?
An absolute divorce is granted after a party has grounds for a divorce.
Through the absolute divorce proceedings a judge has the authority to resolve all outstanding issues relating to the marriage, such as alimony, custody, visitation, child support, use and possession of the family home, marital property issues, retirement issues, and/or attorney's fees.
AN ABSOLUTE DIVORCE IS THE OFFICIAL LEGAL TERMINATION OF THE MARRIAGE. IT CHANGES THE STATUS OF BOTH PARTIES TO SINGLE. ONCE ABSOLUTE, ALL PROPERTY ISSUES WILL BE RESOLVED"
More Information on Maryland Divorce & Separation
Understanding the Grounds for Divorce in Maryland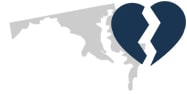 Proving grounds for divorce is complex; yet necessary in Maryland. Each situation is different and each of the above types of Maryland divorce cases require that specific grounds for divorce have been established.
NOT ALL MARRIAGES ARE THE SAME, SO THEY'RE NOT TREATED THE SAME. THIS IS PART OF WHAT MAKES THE MARYLAND DIVORCE SYSTEM VERY COMPLEX."
Filing for Maryland Divorce Based on 1 Year of Voluntary Separation
Every state is different when it comes to divorce and Maryland is no exception. The term separation can have different meanings, depending on where you live, and if you're seeking a Maryland divorce, one of our Glen Burnie divorce attorneys can help you understand how separation in Maryland plays into the process.
The Lengthy Divorce Process in Maryland
Once divorce proceedings begin, the stages of a Maryland divorce are much like those of any other state, and involve petitions, discovery and considerations for property division, child custody agreements and alimony. On average, a Maryland divorce takes approximately 2 weeks up to more than a year once the proceedings begin.
When is an Annulment an Option in Maryland as Opposed to Filing for Divorce?
The rules surrounding the legal grounds for annulment are very strict in Maryland. The majority of couples fail to qualify for an annulment under these rules. Continue reading for more information on Maryland annulments.
An Overview of Maryland Separation Agreements
If you and your spouse have decided to pursue a separation, a Maryland separation agreement, also called a property settlement, is usually the best way to assure all the big issues of divorce are taken into consideration and clearly spelled out. Learn more about the process of drafting a Maryland separation agreement.
AN ANNULMENT MEANS NO VALID MARRIAGE EVER EXISTED. TO GET AN ANNULMENT IN MARYLAND YOU'LL REALLY HAVE TO PROVE YOUR MARRIAGE WAS NEVER A MARRIAGE."
Contact Our Maryland Divorce Lawyers With Locations in Glen Burnie, Columbia, & Annapolis to Discuss Your Case
The divorce lawyers at Jimeno & Gray, P.A., want to ensure you have the best information available when making decisions about ending your marriage. Contact us to schedule a face-to-face consultation to discuss the details of your Maryland divorce case.